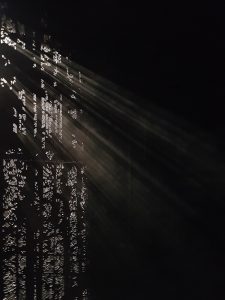 Alannah Robins collaborates with Göran Fröst, Jacob Kellermann,  Rikard Borggård and Anders 'Shorty' Larsson at Teater Giljotin, Stockholm for a concert in the dark. Recitations by Etienne Glaser,
Music by
Arvo Pärt – Fratres (Arr: Kellerman)
Manuel De Falla – ur Nätter i spanska trädgårdar (Arr: Kellerman/Fröst)
Benjamin Britten – Lachrymae (Arr: Kellerman)
Richard Strauss – Morgen (Arr: Kellerman/Fröst)
Göran Fröst – Four DLights
Sehnsucht
Galleria Lapinlahti, Helsinki, 2018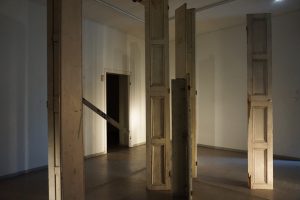 Mignon is a minor character in Goethe's book Wilhelm Meister's Apprenticeship. The book exerted enormous influence on 19th century thought as the first bildungsroman, and the Mignon character became an archetype for the displaced child. Four songs in the book – in which she sings of her sehnsucht, themes of displacement and secrets of her genesis – have been set to music by numerous composers, including Schubert, Schumann, Liszt and Wolf. The character has inspired writers and musicians alike to explore this quintessentially Romantic concept of sehnsucht – a state that exists more for itself than toward any immediately definable object – as well as the other complex layers represented by prepubescent Mignon.
Mignon and the state of Sehnsucht provide the focal point for this body of work by Irish artist Alannah Robins, whose artistic practice has for many years explored themes of displacement and migration.
The work builds on a collaborative project with Swedish musician Cecilia Josefson, in which the two investigated Sami psychiatric hospital treatment in Finnmark, Northern Norway. Their film, screened in the project room, takes us through hospital corridors to the desolate landscape of Finnmark. The inclusion of the film in this exhibition, in this gallery, an old psychiatric hospital, suggests resonances between global- and psychological- displacement. It lifts the role of nature in healing for our attention.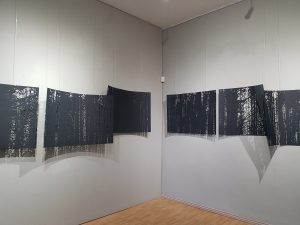 Robins uses simple materials, familiar objects and their shadows to nudge us into questioning our preconceptions about our relationships with place. Hair, a potent symbol of power and beauty, arouses feeling of disgust when removed from the body and lying on the floor. An installation of old Georgian shutters create a spatial dialogue between two separate rooms with their own looming shadows in one room. A beam of light penetrating through the shutters, into the darkened other space – 'Madhouse' – references the special architecture of the 19th Century building which allows a beam of sunlight to penetrate from one side of the building to the other.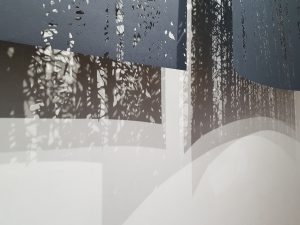 A frieze of black paper cut outs, suggesting a narrative sequence, traces forests of trees in silhouette, gradually changing from the Nordic Sitka spruce to deciduous trees, native to Ireland, tracing the changes, seeking the homeland.
What persists is a dialogue around the stateless condition, around nostalgia and the idealisation of the homeland or the innocent childhood.
Thanks to Culture Ireland, Galway Co Council and The Embassy of Ireland in Finland for their support of this project.
Carrying the Songs
Ewert Ekros and Alannah Robins, Detroit Stockholm, November 2016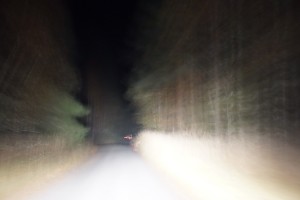 Carrying the Songs is a project which has its genesis in Norn, a small, isolated community in Dalarna. Ewert Ekros and Alannah Robins have gathered visual and audio material, focusing on stories which bore a strong link to the landscape in this area.
The artists are concerned with what happens to a story when it is removed from its place of origin, when those who tell and retell migrate, and all terms of reference and context are absent. As part of the working process, the stories have undergone a processing through the mouths and ears of people spread around Sweden in an extended game of Chinese whispers. The distortions which have taken place have been characterised by individuals' own experiences, memories, and by translations.
At Detroit gallery, these stories resonate and overlap in a film and sound installation. Visual references take the form of film, shadow puppetry and drawing.
The title of the exhibition is borrowed from the Irish poet Moya Cannon. The epigraph with which Cannon begins the title poem of Carrying the Songs—"Those in power write the history, those who suffer write the songs" (Frank Harte) — prepares the reader for a collection that chronicles the suffering that emigration and colonization have produced, by means of the songs that have emerged from the suffering.
It was always those with little else to carry
who carried the songs
to Babylon,
to the Mississippi –
some of these last possessed less than nothing
did not own their own bodies
yet, three centuries later,
deep rhythms from Africa,
stowed in their hearts, their bones,
carry the world's songs.
For those who left my own county,
girls from Downings and the Rosses
who followed herring boats north to Shetland
gutting the sea's silver as they went
or boys from Ranafast who took the Derry boat,
who slept over a rope in a bothy,
songs were their souls' currency
the pure metal of their hearts,
to be exchanged for other gold,
other songs which rang out true and bright
when flung down
upon the deal boards of their days.
MOYA CANNON
Thank you to Culture Ireland for their support.
Yari Aydinlik – The Half Light
Alannah Robins at Pasaj Independent Art Space, Istanbul, 2016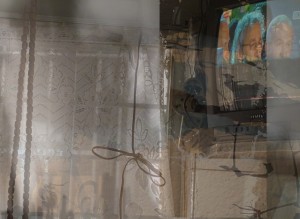 This artwork concerns the ideas of homeland, memory and identity.
Alannah Robins explores ideas around the ancient practice of intramural burial in regions of Çatalhöyük SE Turkey and Tell Brak, in the Khabur of North Syria. In these prehistoric societies, the deceased were buried in hearth and oven areas in the houses. The burial of these children under the hearth was an act that kept family members at the heart of the home.
Today, voices are silenced, the migrant and the oppressed cannot bury their dead. Robins layers up these references of in-between states in a site-specific video installation, echoed in WB Yeats's 'night and light and the half light.'
Bach i Vattnet/Bach in the Water
Seven wash-hand basins meet a Bach Fugue in a multi media exhibition by composer Cecilia Josefson and artist Alannah Robins,Galleri CC, Malmö, March 2016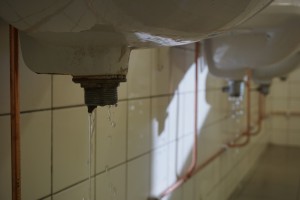 In this exhibition, Bach's fugue in G# minor acts as a framework for an investigation in to psychiatric care. The fugue is built on strict rules: each voice plays a part in the harmony of the whole, while maintaining their own melody and individual integrity. Josefson and Robins use this framework to explore the frictions between different voices echoing around the stark landscape of Finnmark, Northern Norway – a meeting point between the Sami population, Western colonisers and their respective approaches to health care.
In this exhibition they make full use of Galleri CC's space with three connected installations. In a starkly tiled room, seven wash hand basins drip water, adding percussive elements to Josefson's extended soundscape. A film downstairs takes us on a journey through the inside of a mute piano and hospital corridors to the desolate winter of Finnmark. Claustrophobia and an inability to be heard prevail throughout.
Link to film Finnmark
Still Falling-Papa India
Alannah Robins in collaboration with Ewert Ekros, at Detroit Stockholm, 2015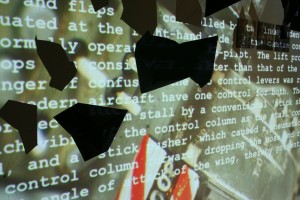 Combining film with an installation of paper planes, Alannah explores the public and private stories surrounding the 1972 air crash in which 11 Irish business men died, on their way to Brussels to negotiate Ireland's potential membership of the EEC. Alannah's grandfather Sandy Miller was one of these men and his sudden death when she was six months old left a profound impression on her family. The work is accompanied by a sound installation by Ewert Ekros.
Doktorn är bara bra om något ska klippas bort
Alannah Robins in collaboration with sound artist Cecilia Josefson, Kiruna Stadshus, 2015
"Doktorn är bra om något ska klippas bort men inte för någonting annat. Doktorn kan inte göra mycket åt någonting. Vi har försökt många gånger, för vi har varit sjuka, men vi har blivit så besvikna." (Nanna Persen)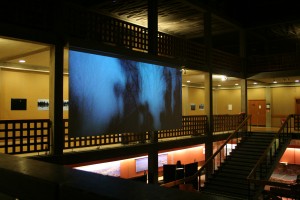 Vi gav oss upp till staden Lakselv, längst upp i Nordnorge för att bo hos Sigvald Persen, en man född in en familj som förvaltar de samiska gamla läketraditionerna. Hans mamma Nanna var en välkänd i området och människor sökte upp från när och fjärran för att få hjälp. Nu verkar Sigvald i hennes fotspår. I området har en egen samisk psykiatri byggts upp som präglas av ett nytt tänkande och helt egna metoder. Traditionella samiska element släpps in i behandlingarna och utmanar den västerländska psykiatrins metoder och sanningar. I denna miljö verkar Sigvald. Hans arbete är kontroversiellt i det att han står upp för de gamla traditionella metoderna.
Förort
Alannah Robins exhibits at Tyresö Konsthall, 2014
'The bees build in the crevices of loosening masonry'- WB Yeats, The Stare's Nest By My Window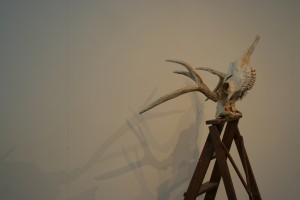 Drawing on familiar images, Alannah Robins explores our heritage of myth and memory. She has an instinctive, play-like, approach to the work, in which previously unrelated images conjoin to suggest deeper, unconscious layers of meaning. The resulting objects or images trace an interior landscape,  and with it recurring themes of identity, sexuality and a man's relationship with nature.
Through  various processes of reduction Alannah explores the entity of 'Förort', 'The Suburb'. She reflects on the suburb as an in between place, a place where immigrant communities build, in the crevices between nature and the city. Both in English and in Swedish the suburb is named as an place under or inferior to the city. The Swedish word describes a place before the place itself.
Alannah uses the bones of the elk, the great romantic symbol of Sweden, to reflect on in between places. She slices, stitches together and  inverts the skeleton, all the time using shadow as a reminder of an absence. Painting on clinical white tiles, she removes and reduces the ink to create a collage of suburban images. She repeatedly references Alla Helgons Dag, and that 1st November practice of lighting graves with candles, another homage to an in between world. This process of reduction, and that of cutting away paper to create stark shadow puppet images suggest an attempt to reach the bare essence of a subject. This work is placed with the bare bones of the elk in a dimly lit November room full of shadows.
This exhibition sees a new collaboration between Alannah Robins and Ewert Ekros. In the sound installation Bina Bygger i Sprickorna, the original Yeats poem, The Stare's Nest by My Window, is layered with Thomas Sjösvärd's Swedish translation of the same. These are further layered, creating a kind of musical conversation, with excerpts from Lollo Collmar's radio documentary on Återvändare. We hear the teenage voices of  immigrant populations of the Göteborg suburbs teasing out this sensation of not quite belonging, of being caught between cultures or lands. The reading in an Irish voice of a Swedish translation of an Irish poem , and the reading of the original in a Swedish voice further explore this state of displacement. Ewert's spare musical technique of scraping back to the bare essence underlines Alannah's aesthetic.
Irish artist Alannah Robins is a graduate of the National College of Art and Design, Dublin. She was a founder member of the Atlantic Artists' Association which ran a collective studio and gallery space on the West coast of Ireland for nine years. Alannah has won several commissions and awards for her artwork in Ireland and Sweden, including a public commission for the Waterford Institute of Technology, Tyresö Kulturstipendium and Helge Axeson stipend. In recent years she has exhibited in the Royal Hibernian Academy, Dublin, London's Dialogue Cultural Space and here in Stockholm, in Tegen2 and Detroit Stockholm. Alannah is a member of Detroit Stockholm's Collective Studio, Tyresö Konstnärer, Visual Artists Ireland, Catalyst Arts Belfast, and Fylkingen.
Migrant
Alannah Robins exhibits at Detroit Stockholm, 2014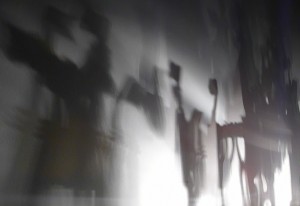 Alannah Robins's multimedia installation combines video with a large gathering of used toothbrushes. These have been gathered from friends, colleagues and extended networks throughout Europe, with the previous owners carefully documented. The groups of toothbrushes loom in a sensitively lit space, the large beautiful shadows becoming almost more important than the objects themselves. Robins deals in shadows and reflections, her shadow puppets of woodland and suburban life stand a centimetre from the wall, and make a delicate play of light on the background. A camera trained on a neighbour's apartment in the falling snow overlays reflections and sounds of mundane domestic life in an interior. This show sees a new collaboration with Sören Runolf who's improvised electronic and acoustic sounds intensify the atmosphere of this compelling installation.
This exhibition concerns the ideas of burial, memory and identity. It also touches on worlds both communal and internal.
Regions of the Near East, specifically Tell Brak, in the Khabur of North Syria and of Çatalhöyük, SE Turkey have historically been home to traditions of intramural infant burials. Here children are found buried in hearth and oven areas in the houses. *
To fill an object with soil seems to be an act conversely connected with the act of burial. The burial of these children under the hearth was an act that kept the children at the heart of the home. The filled object, however, remains portable. The object filled with soil bears resonances of emigration,  the desire to carry some symbol of homeland, and perhaps membership of a migrant group.
The toothbrush is an intimate but non-personal object. Grouped together and partly buried in soil, they create their own visual rhythm with resonances of suggested intimacies and connections. The worn out bristles bear the imprint of use and personal geography.
The Irish blind wandering poet Antoine Ó Raifteirí is often described as the last of the wandering bards. He wrote in the 18th century his poem Máire ní Eidhin in praise of the great beauty of this woman. His words drove men out of their minds, some meeting death by drowning. This poem, when reconciled with his blindness, evokes notions of a lucid inner vision and in WB Yeats's poem Mary Hynes, he is compared with Homer, and she with Helen of Troy. In this exhibition evocations of an inner vision emerge in a play on interior and exterior worlds, with references to reflections and images viewed through windows.
*" While elders and established members of previous generations are integral to the concept of tradition, how then, does the role of children play in the negotiation of memory, identity and maintaining the past through lives cut short? [I believe] the answer lies in part, in the social constructs of membership; within Çatalhöyük's society as well as external to it." Sharon Moses, Cornell University, The Children of Neolithic Çatalhöyük: Burial Symbolism and Social Metaphor.
Alannah Robins: Irish artist Alannah Robins is a graduate of the National College of Art and Design, Dublin. An article in The Guardian listed her sculpture in Grizedale Forest Sculpture Park, Cumbria as one of the eight best sculptures of the female figure in Britain. She was recently awarded the Tyresö Cultural Stipendium and has exhibited broadly including in London's Dialogue Cultural Space, Harris Lindsay of Mayfair and in Stockholm's Tegen2.
Sören Runolf: Live electronics, cello, electric guitar. (Stockholm, Sweden) Sören is part of the free-improvised and the electro-acoustic music scene and has performed in Europe, Russia and USA. Since the late seventies, he is member of the free-improvised-music-group Lokomotiv Konkret and works in several other constellations together with musicians/composers as Sten Sandell, Mats Lindström, Johannes Bergmark and Lise-Lotte Norelius and often in collaboration with coreographers/dancers, performance-artists, poets and video-artists.
He performs solo with live-electronics – equipment as contact microphones, amplified objects, electronic processors, live-sampler, analog and virtual modular synthesizers etc.