Alannah Robins has a dynamic artistic practice, based in Ireland and Sweden. A graduate of the National College of Art and Design, Dublin, she was a founder member of the Atlantic Artists' Association which ran a collective studio and gallery space in Clifden for nine years.
Alannah has won several commissions and awards for her artwork in Ireland and Sweden, including a public commission for the Waterford Institute of Technology, Tyresö Kulturstipendium and Helge Axeson stipend. She has exhibited, among other places, in the Royal Hibernian Academy, Dublin; London's Dialogue Cultural Space; Pasaj Independent Arts Space, Istanbul and in Sweden's Tegen2, Detroit Stockholm, Galleri CC and Kiruna Stadshus.
She is the founder and director of Interface artist in residence programme in Connemara. Located in an old salmon hatchery, Interface offers opportunities for international artists to explore intersections between scientific research and art in an area of outstanding natural beauty.
ARTIST'S STATEMENT
I believe that myth is truer than history. I believe that the artistic process is visionary, that artistic investigations into the nature of reality have the potential to prepare the way for scientific discoveries. In the words of James Baldwin, 'The purpose of art is to lay bare the questions which have been hidden by the answers.'
With this belief at the helm of my practice, I allow myself to be immersed in my surroundings and to work intuitively. Elements of my environment inevitably find their way into my work, be they suburban cityscapes, tangled hedgerows, children's toys, or furniture and domestic objects. What recurs with persistence is a reference to man's relationship to nature, an interrogation into how both man and language are characterised by the landscape and vice versa.
The process of drawing blind, as in looking intensely at the object to be drawn, and not at the page, is a starting point for many investigations. Using the eye, brain and hand as a filter, the abstraction which takes place is entirely honest. Associations which emerge are unconscious, mystical.
As an artist with a background in object making, I have been excited by the experience of recent years in which elements of my practice have begun to diffuse into more ephemeral work. Shadow replaces stone and paper replaces wood. This is not to say that the object is entirely absent, but that it finds itself part of a greater whole, or that it is less concrete. Elements of light and shadow play a critical role in all of my work, not least in the paper cut outs. Moving away from the homeland was instrumental in bringing about this kind of change. A change of studio space initiated a turn to new materials. Encounters and consequent relationships with electronic musicians stimulated an engagement in temporary artwork, collaborative partnerships and an interest in interdisciplinary artwork. Having resisted film for many years, I have succumbed to the use of moving image as an element in my work, together with assembled work, installation, shadow theatre and performative elements.
"History is never more than a partial slap stick comic or heavy flirtation with the deep realities; the myth is a clear delineation of them.
Who is this King of Glory, Alvin Boyd Kuhn, The Book Tree, San Diego, 2007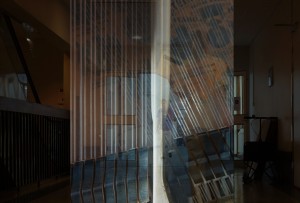 "Västerlig psykiatri har tagit patent på sanningen. Det är vårt tids kolonisering. Men man koloniserar inte land utan själar."  Jens Ivar Nergård
"Western psychology has taken out a patent on the truth. It is our time's colonisation. It is not only the land that is colonised, but also souls."
Jens Ivar Nergård
Alannah Robins acknowledges the generous support of Creative Ireland, Galway County Council Arts Office, The Arts Council, Ealaín na Gaeltachta and the federation of European Story tellers, co-funded by the Creative Europe Programme of the European Union.
Aithníonn Alannah Robins an chabhair mhór a thug tacaíocht airgeadais Údarás na Gaeltachta agus An Chomhairle Ealaín trí Ealaín na Gaeltachta, chun an togra seo a chur ar bun.