A story is told and recorded on Inis Mór, a small island off the West coast of Ireland. That story is retold, from person to person, travelling across Ireland and Europe, through Scandinavia to Istanbul. Along the way, it is translated, processed by peoples' own memories, experiences and cultures. Layers are added and other layers are forgotten and let go. In parallel with the metamorphosis of this story, a drawing undergoes the same process. It starts on the Western edge of Europe and is passed from from artist to artist, participant to participant, all the way to the Eastern edge of Europe. Each participant makes changes to the drawing, so it also undergoes a gradual metamorphosis.
Eachtraítear scéal in Inis Mór, Árainn.
Déantar é a thaifead.
Téann an scéal ó dhuine go duine ar ZOOM.
Trasnóidh an scéal bánta na hÉireann
Gluaisfidh ó thuaidh go Críoch Lochlann
Soir trí bholg na hEorpa chomh fada le hIstanbul.
Bogfaidh an scéal roimhe trí theangacha éagsúla
Trí chultúir áirithe
Trí chuimhní daoine
Ar an gcuma chéanna
Cuirfear píosa ealaíne
Ar mhacasamhail d'aistear
Ó imeall thiar na hEorpa
Go h-imeall thoir na Mór-Roinne
Thosnaigh an tionscnamh seo le tionscnamh píolótach beag sa tSualainn. Le chéile leis an ceoltóir Ewert Ekros, chuamar i mbannaí cluiche Chinese Whispers le groupa beag. Thosaíomar le trí scéal sa traidisiún béil, a raibh baint laidir le Norn, pobal beag in áit iargúlta i nDarlarna. Mar a bhí na scéalta iarrtha agus athiarrtha taifeadaitear na scéalta agus thugadh faoi ndeara na hathraithe. Insealbhú fuaim agus scannán, ag macnamh ar na hathraitha ab ea an toradh.
The game is called Chinese Whispers in English, Stille Post in German, Gluchy Telefon in Polish, Rikkinäinen Puhelin in Finnish, katkine telefon in Estonian, sugedęs telefonas in Lithuanian,  Развален телефон in Bulgarian. On this scale, it is a powerful project which explores notions of memory, sense of place, language, communication and rumour, landscape and migration. It is a project which engages people from twenty different European countries in an exploration of both our commonalities and our differences while creating a collective artwork.
How does this happen?
This giant game of Chinese whispers started in the Galway Gaeltacht in March 2020. Originating on Inis Mór with a story and a drawing (as Gaeilge), it wound its way through the different Gaeltacht and English-speaking regions of Ireland, before heading out across Europe.
The Story
The story started with a young story teller Liam O Flaithearta on the island. The story has been told person to person using ZOOM, and recorded each time.  As it traversed regions, it is changed dramatically and after one week was already unrecognisable from the original story.  It was translated from Irish to English – and back again – sixteen times. As language is characterised by landscape and culture, it continued to change and since leaving Ireland has been told in Scots Gaelic, English, Welsh, French, Breton, Occitan, Catalan, Basque, Kikongo, Swabian, Swiss German, German, Flemish, Friesian, Danish, Swedish, Arabic, Norrsjö Bonska, Norwegian, Sami, Meänkieli, Finnish, Estonian, Russian, Mulgi, Võro, Seto, Livonian, Latvian, Lithuanian, Spanish, Polish, Kashubian, Czech, Slovakian, Hungarian, Esperanto, Slovene, Austrian German, Persian, Samburu, Italian, Croatian, Bosnian, Serbian, Bulgarian, Greek, Turkish, Armenian and Kurdish.
Dúirt bean liom go ndúirt bean lei
D'inis Liam an scéal do Ghearoid a d'inis d'Aisling a d'inis do Cyril a d'inis do Phlunkett a d'inis do Nora Marie a d'inis do Nora a d'inis do Eabha a d'inis do Bhairbre a d'inis d'Aoife who told Lelia who told Julia who told Johanna a d'inis do Naoise a d'inis do Lorcán a d'inis do Ríona a d'inis do Mharianne a d'inis do Mharian a d'inis do Dhiarmuid a d'inis do Bhridget a d'inis d'Aodh a d'inis do Lillis a d'inis do Mhiriam who told Órla who told Niceol who told Róise who told Eugene who told Trish who told Anita who told Bríd a d'inis do Riocárd a d'inis do Neansaí a d'inis do Mhary a d'inis do Fiona a d'inis do Bhrenda a d'inis do Khathleen who told Sofia who told Ailbhe who told Ann who told Eily who told Carole Anne who told Caroline who told Simon who told Emer who told John who told Sarah a d'inis do Mhichael who told Rosaleen who told Stephen who told Thady who told Stephen who told Daniel who told Christine who told Fiachra who told Madeline who told Nikitta who told Eileen who told Sandy who told Maebh who told Jeananne who told Sinead who told Ann who told Alice who told Debbie who told who told Martha who told Nuala who told Joan. D'inis Joan an scéal do Mhary Jo a d'inis d'Aodán a d'inis do Bharra a d'inis do Sheán a d'inis do Phap a d'inis do Threasa a d'inis do Darren who told Jacqui who told Mike who told Sam. Sam told the story to Fionnuala who told Seamus who told Elaine who told Tara who told  David who told Anna who told it to Liam a d'inis do Caoímhín a d'inis do Philip a d'inis do Sheán a d'inis do Rossa who told Mabel who told Dee who told John who told Gifti who told Karen. Karen told the story to Keith who told Breege who told Florence who told Sean who told Grace who told Victoria who told Eithne a d'inis do hEoghan a d'inis do Mhary a d'inis do Phrionsias a d'inis do Suzanne a d'inis do Mháirín a d'inis do Dhónall a d'inis do Rhoisín a d'inis do Chathal a d'inis do hAodán a d'inis do Chonor a d'inis do Sheanán a d"inis d'Oisin. D'inis Oisín an scéal do Deaglán a d'inis do daire a d'inis do Dhónall a d'inis do Sara who told JP who told Madeleine who told Liz who told Aimee who told Paul who told Nicky who told Katie who told Jaff a d'inis do Sheán a d'inis do Frances who told Jayne who told Alexander who told Patricia. Patricia told the story to Christina who told Laura who told Heather who told Tom who told Bea who told Iain. Dh'innis Iain an sgeulachd do Mhaggie a dh'innis do Liam i a dh'innis do Theàrlach who told Mags who told Ruth who told Claire who told Kay who told Tony who told Christine who told Rosie who told Mary who told Alison who told Teresa who told Nigel who told Elen. Adroddodd Elen y stori i Tamar ac adroddodd hi i Christine  who told Paul who told Shane who told Marion who told Sef who told Johanna who told Kate who told Fleur who told Maxime. Kontet en deus Maxime an istor da vMaël qui a raconté à Magali qui a raconté à Guillaume qui a raconté à Franck qui a raconté à David qui a raconté à Natasha qui a raconté à Caroline. Caroline contet a l'Isabela que contet al Sergi que contet a la Monica qui a raconté à Begoña. Begoñak Itziarri kontatu zion istorioa eta Itziarrek Koldori. Koldo a raconté l'histoire à Lore qui a raconté à Marine qui a raconté à Irma. L'Irma va contar la història a la Susana qui la va contar a la Marine qui a raconté à Virginie. Virginie mutu tangaka kiimpa na sika ya Jorus qui a raconté à Jorus qui a raconté à  Olivier qui a raconté à Nikola. Nikola erzählte die Geschichte Kathinka, und die erzählte sie Isabella, und die erzählte sie Helga und die erzählte sie Carola und die erzählte sie Martin, und die erzählte sie Linda und die erzählte sie Ronja  und die erzählte sie Arjen. Arjen vertelde het verhaal aan Saskia, die het aan Celeste vertelde, die het aan Marin vertelde, die het aan Reinou vertelde, die het aan Tjitze vertelde, die het aan Neel vertelde, die het aan Carolien vertelde, die het aan Heidi vertelde, die het aan Maria vertelde. Maria erzählte die Geschichte Regina und die erzählte sie Selma und die erzählte sie Karen und die erzählte sie Michel und die erzählte sie Vite und die erzählte sie Susana und die erzählte sie Yacouba und die erzählte sie Anna und die erzählte sie Edith und die erzählte sie Kathleen und die erzählte sie Kari. Kari fortalte historien til Pernille, som fortalte den til Peter, som fortalte den til Louise, som fortalte den til Svend-Erik som fortalte den til Wiggo. Wiggo berättade historien till Björn som berättade till Margon som berättade till Jerker som berättade till Anna som berättade till Ylva som berättade till Christina som berättade till Disa som berättade till David som berättade till Hedvig som berättade till Anna som berättade till Maud som berättade till LiseLotte som berättade till Sören som berättade till Cecilia som berättade till Chris som berättade till Thyra som berättade till Isa Lilja som berättade till Mahmoud som berättade till Waseem som berättade till Ewert som berättade till Madelaine som berättade till Kenneth som berättade till Ringvor som berättade till Carolina som berättade till Stina som fortalte den til Sigvald som fortalte den til Ranveig som fortalte den til Linnea. Linnea selitti tarinan Merville, joka selitti sen Jennalle, joka kertoi sen Dennikselle, joka kertoi tarinan Sannille, joka kertoi sen Mattiakselle, joka selitti sen Káren-Annelle, gii muihtali muihtalus Mariannii, joka kertoi tarinan Annalle. Anna Kaisa kertoi tarinan Janikalle, joka kertoi Geirille, joka kertoi Zarahille, joka kertoi Kimille, joka kertoi Airille, joka kertoi Matildalle, joka kertoi Marialle, joka kertoi Markukselle, joka kertoi Azarille, joka kertoi Kaarinalle, joka kertoi Marjalle, joka kertoi Sallalle, joka kertoi Markukselle, joka kertoi Marjalle, joka kertoi Riikalle, joka kertoi Matille. Mati rääkis loo Piretile, kes rääkis selle Avele, kes rääkis selle Piretile, kes rääkis selle Polinale, kes rääkis selle Varvarale, kes rääkis selle Margusele, kes rääkis selle võro keeles Kristile, kes rääkis selle mulgi keeles Sullõvile, kes rääkis selle võro keeles Terjele, kes rääkis selle seto keeles Julgīle, kis nīžiz Jōņõn Jānis, kurš stāstīja Guntim.Guntis izstāstīja stāstu Initai, bet viņa izstāstīja Daigai, kura tad stāstīja Aldim, bet viņš – Vilhelmīnei; Vilhelmīne tad stāstīja Anetei, kura izstāstīja Kasparam, bet Kaspars pārstāstīja Aistei. Aistė papasakojo istoriją Liucijai, kuri papasakojo Simonai, quien le contó a Roberto, who told to Emi, who told Emilija, kuri papasakojo Kristijonui. Krzysztof opowiedział historię Jakubowi, który opowiedział ją Oldze, ta zaś Agnieszce, a ta z kolei Ani, która opowiedziała Oldze, a Olga opowiedziała Karolinie. Ta opowiedziała Kasi, a ta znów Karolinie. Następnie Karolina opowiedziała Ani, a Ania Michałowi, który opowie z Dariuszem Michali. Michaela řekla příběh Justině, která jej vyprávěla Markétě, která jej řekla Ivetě, která jej řekla Káče, která jej řekla Jiřímu, který jej řekl Markétě, která jej řekla Lence, ktorá ho povedala Daniele, ktorá ho povedala Rokkovi. Rokko elmesélte Lorándnak, aki elmesélte Csengének, aki elmesélte Stellának, aki elmesélte Petinek, aki elmesélte Majának, aki elmesélte Markónak. Marko je povedal zgodbo Jani, ona jo je povedala Sari, Sara Barbari, ona Speli, Spela Jusu, on Maji, Maja Mojci in ona Barbari. Barbara erzählte die Geschichte an Tanja weiter, die erzählte die Geschichte Rafi, der erzählte sie Beatrix, die erzählte sie Baharak, die erzählte Aliakbar, der erzählte sie Renate, die wieder Ruth, die weiter an Jan, der an Peninal, der an Patrick, der an Lara, die an Bogten und der erzählte sie Lorenz. Lorenzo ha raccontato la storia a Micoo che l'ha raccontata ad Andrea che l'ha raccontata ad Enrico che l'ha raccontata ad Enrico che l'ha raccontata ad Angelo che l'ha raccontata a Giorgio che l'ha raccontata a Diego che l'ha raccontata a Linda che l'ha raccontata a Petra. Petra je priču ispričala Dijani, Dijana Margareti, ona dalje Vladimiri, Vladimira Roku, Roko Katarini, koja ju je ispričala Aniti, Anita Sabini, Sabina Srebrenki, ona dalje Eriki, koja je ispričala Neveni, a Nevena Lali.Lara je ispričala priču Ivanu, koji ju je ispričao Sanjinu, Sanjin ju je ispričao Maku, Mak ju je ispričao Davoru, Davor ju je ispričao Farisu, Faris ju je ispričao Elmi, Elma ju je ispričala Svetlani, Svetlana ju je ispričala Sonji, a Sonja ju je ispričala Stefanu.Стефан разказа историята на Ния, която я разказа на Нели, коята я разказа на Станислава, която я разказа на Франц, който я разказа на Цвета, която я разказ на Радина, която я разказа на Гина, която я разказа на Гери, която я разказа на Александър, който я разказа на Катерина. Η Κατερίνα είπε την ιστορία στο Γιάννη, ο οποίος την είπε στον Μενέλαο, που την είπε στην Χρυσάνθη, που την είπε στη Μπίλυ, που την είπε στη Βασιλεία, που την είπε σε μια άλλη Κατερίνα, που την είπε στην Seyda.Şeyda hikayeyi Gonca'ya, Gonca Gözde'ye, Gözde Emrah'a, Emrah Sibel'e, Sibel Hıdır'a, Hıdır Devrim'e, Devrim Turna'ya, Turna Melisa'ya, Melisa Diruhi'ye, Diruhi Gözde'ye, Gözde Emrah'a, Emrah Zeynep'e, Zeynep Kulilk'e, Kulilk Azad'a, Azad Maral'a ve Maral who told the world.
The Drawing
The drawing was started by artist Sean O Flaithearta and is being passed via email, from one artist to another. Every time an artist makes a small change to the drawing, that change is photographed and the image uploaded on to the timeline of a gradually evolving stop-motion animated film. Contributing Artists to date: Sean O Flaithearta, Fionnuala Hernon, Cyril O Flaithearta, Aoife Casby, Andrea Rossi, Lelia Ní Chathmhaoil, Maeve Curtis, Noelle Gallagher, Frank Monahan, Dolores Lyne, Louise Manifold, Leah Beggs, Selma Makela, Jennifer Cunningham, Angela Williams, Bernie Dignam, Margaret Irwin West, Breda Burns, Michael Geddis, Jenny Soep, Pierre Courtin, Andrea Rozorea, Emmy Dijkstra
Both the original drawing and story will disappear, being replaced by transformed versions of themselves.
404 participants
throughout 29 countries
in 50 languages
23 artists so far
the adventure continues!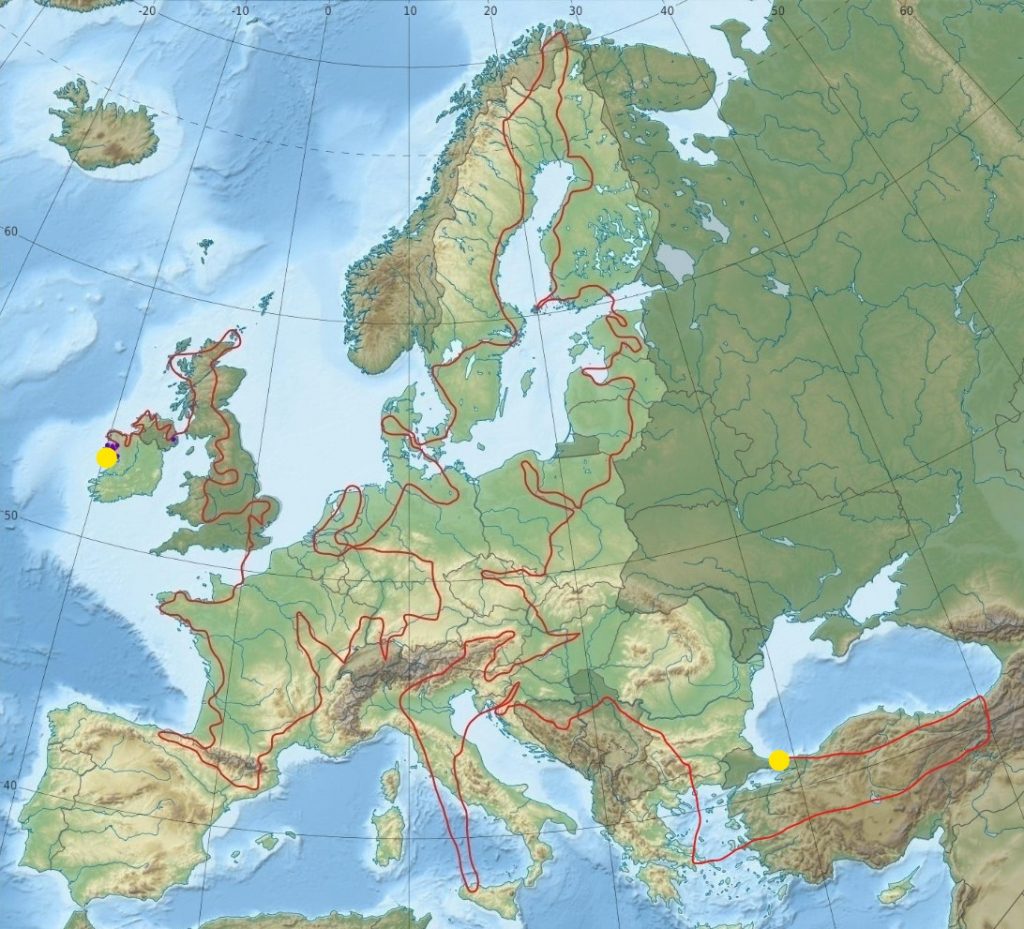 Inis Mór, Connemara, Mayo, Sligo, Leitrim, Donegal, Derry, Belaghy, Antrim, Belfast, Ayr, Glasgow, Kinlochleven, Orkney,  Inverness, South Uist, Edinburgh, Kendal, Lancaster, Rotherham, Liverpool, Cardiff, Norwich, Chelmsford, Cambridge, London, Brighton, Brest, Concarneau, Lorient, Perigeaux, Marseilles, Paris, Lyon, Freiburg, Zurich, Munich, Kaßliz, Nijmegen, Utrecht, Amsterdam, Friesland, Leuven, Ulm, Duisberg, Dortmund, Berlin, Fyn, Spjald, Copenhagen, Malmö, Gothenburg, Örebro, Stockholm,  Umeå, Kiruna, Tromsö, Alta, Lakselv, Pajala, Karesuando, Oulo, Vaasa, Pori, Turku, Åland, Helsinki, Tallin, Mulgimaa, Võro, Seto, Livonia, Riga, Vilnius, Warsaw, Bydgoszcz, Kaszubski, Ostrava, Prague, Brno, Bratislava, Budapest, Tatabanya, Maribor, Ljubljana, Vienna, Graz, Salzburg, Milan, Palermo, Perugia, Zagreb, Rijeka, Sarajevo, Belgrade, Sofia, Plovdiv, Athens,  Izmir, Erzincan, Trabzon, Istanbul.
PRESS
Breandain O Scainnell, Connemara Community Radio, 4th June 2020
Pass It On – Manchán Magan, The Irish Times, 12th September 2020
Where Science Meets Art, Judy Murphy, Connaught Tribune, 10th September 2020
Oletko kielipää? – Sveriges Radio Finska
Lithuanian Radio – LRT Kultūros savaitė. 19th September 2020 – the feature starts at 40:40
 Sunday Miscellany – RTE Radio 1 – 21st March 2021 – the feature starts circa 36:00
SUPPORT THE PROJECT
Support this story and drawing in reaching their destination, by buying an A3 limited edition print of the drawing at various stages of the journey. These can be found on the shop page of the Interface website, through this link here.
This project is generously supported by Creative Ireland, Galway County Council Arts Office, The Arts Council, Ealaín na Gaeltachta and the federation of European Story tellers, co-funded by the Creative Europe Programme of the European Union.
Aithníonn Alannah Robins an chabhair mhór a thug tacaíocht airgeadais Údarás na Gaeltachta agus An Chomhairle Ealaín trí Ealaín na Gaeltachta, chun an togra seo a chur ar bun.