A story is told and recorded on Inis Mór, a small island off the West coast of Ireland. That story is retold, from person to person, travelling across Ireland and Europe, through Scandinavia to Istanbul. Along the way, it is translated, processed by peoples' own memories, experiences and cultures. Layers are added and other layers are forgotten and let go. In parallel with the metamorphosis of this story, a drawing undergoes the same process. It starts on the Western edge of Europe and is passed from from artist to artist, participant to participant, all the way to the Eastern edge of Europe. Each participant makes changes to the drawing, so it also undergoes a gradual metamorphosis.
Eachtraítear scéal in Inis Mór, Árainn.
Déantar é a thaifead.
Téann an scéal ó dhuine go duine ar ZOOM.
Trasnóidh an scéal bánta na hÉireann
Gluaisfidh ó thuaidh go Críoch Lochlann
Soir trí bholg na hEorpa chomh fada le hIstanbul.
Bogfaidh an scéal roimhe trí theangacha éagsúla
Trí chultúir áirithe
Trí chuimhní daoine
Ar an gcuma chéanna
Cuirfear píosa ealaíne
Ar mhacasamhail d'aistear
Ó imeall thiar na hEorpa
Go h-imeall thoir na Mór-Roinne
Thosnaigh an tionscnamh seo le tionscnamh píolótach beag sa tSualainn. Le chéile leis an ceoltóir Ewert Ekros, chuamar i mbannaí cluiche Chinese Whispers le groupa beag. Thosaíomar le trí scéal sa traidisiún béil, a raibh baint laidir le Norn, pobal beag in áit iargúlta i nDarlarna. Mar a bhí na scéalta iarrtha agus athiarrtha taifeadaitear na scéalta agus thugadh faoi ndeara na hathraithe. Insealbhú fuaim agus scannán, ag macnamh ar na hathraitha ab ea an toradh.
Images from Pilot project, 2016, in collaboration with Ewert Ekros
The game is called Chinese Whispers in English, Stille Post in German, Gluchy Telefon in Polish, Rikkinäinen Puhelin in Finnish, Kitkine Telefon in Lithuanian. On this scale, it is a powerful project which explores notions of memory, sense of place, language, communication and rumor, landscape and migration. It is a project which engages people from twenty different European countries in an exploration of both our commonalities and our differences while creating a collective artwork.
How does this happen?
This giant game of Chinese whispers started in the Galway Gaeltacht in March 2020. Originating on Inis Mór with a story and a drawing (as Gaeilge), it is winding its way through the different Gaeltacht and English- speaking regions of County Galway and Mayo, before heading North to Sligo, Leitrim and Donegal then traversing to Europe, being passed by email and Zoom, through many hands along the way.
The Story
The story started with a young story teller Liam O Flaithearta on the island. The story has been told person to person using ZOOM, and recorded each time.  As it traverses regions, it is changing dramatically and after one week was already unrecognisable from the original story.  It has already been translated from Irish to English – and back again – three times. As language is characterised by landscape and culture, it is anticipated that changes will only increase.
Dúirt bean liom go ndúirt bean lei
D'inis Liam an scéal do Ghearoid a d'inis d'Aisling a d'inis do Cyril a d'inis do Phlunkett a d'inis do Nora Marie a d'inis do Nora a d'inis do Eabha a d'inis do Bhairbre a d'inis d'Aoife who told Lelia who told Julia who told Johanna a d'inis do Naoise a d'inis do Lorcán a d'inis do Ríona a d'inis do Mharianne a d'inis do Mharian a d'inis do Dhiarmuid a d'inis do Bhridget a d'inis d'Aodh a d'inis do Lillis a d'inis do Mhiriam who told Órla who told Niceol who told Róise who told Eugene who told Trish who told Anita who told Bríd a d'inis do Riocárd a d'inis do Neansaí a d'inis do Mhary a d'inis do Fiona a d'inis do Bhrenda a d'inis do Khathleen who told Sofia who told Ailbhe who told Ann who told Eily who told Carole Anne who told Caroline who told Simon who told Emer who told John who told Sarah a d'inis do Mhichael who told Rosaleen who told Stephen who told Thady who told Stephen who told Daniel who told Christine who told Fiachra who told Madeline who told Nikitta who told Eileen who told Sandy who told Maebh who told Jeananne who told Sinead who told Ann who told Alice who told Debbie.
The Drawing
The drawing was started by artist Sean O Flaithearta and is being passed via email, from one artist to another. Every time an artist makes a small change to the drawing, that change is photographed and the image uploaded on to the timeline of a gradually evolving stop-motion animated film.
Contributing Artists to date: Fionnuala Hernon, Cyril O Flaithearta, Aoife Casby, Andrea Rossi, Lelia Ní Chathmhaoil, Maeve Curtis, Noelle Gallagher, Frank Monahan
Both the original drawing and story will disappear, being replaced by transformed versions of themselves.
in or around 250 participants
throughout 21 countries
in 21 languages
the adventure begins!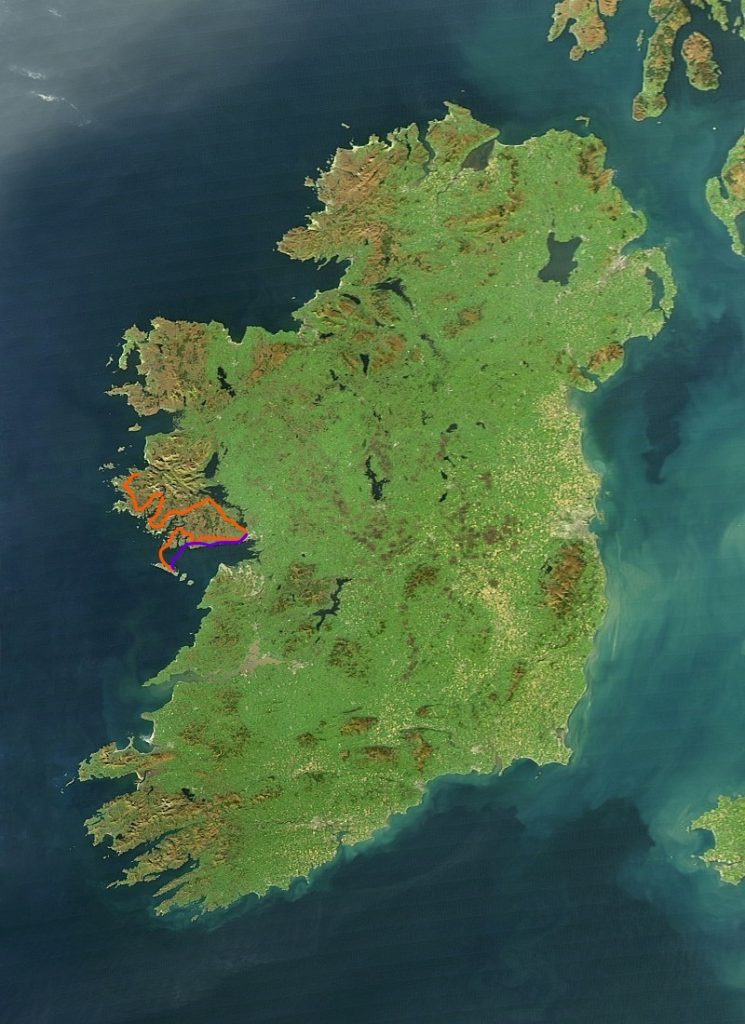 Inis Mór, Connemara, Mayo, Donegal, Dingle, Belfast, Dublin, Chesterfield, Cambridge, London, Amiens, Leeuwarden, Berlin, Aarhus, Malmö, Gothenburg, Örebro, Stockholm, Uppsala, Gävle, Umeå, Haparanda, Jakobstad, Vaasa, Helsinki, Aizpute, Vilnius, Minsk, Warsaw, Poznan, Sokolowsko, Prague, Graz, Ljubljana, Rijeka, Sarajevo, Belgrade, Sofia, Istanbul.
This project is generously supported by Creative Ireland, Galway County Council Arts Office, The Arts Council, Ealaín na Gaeltachta and the federation of European Story tellers, co-funded by the Creative Europe Programme of the European Union.
Aithníonn Alannah Robins an chabhair mhór a thug tacaíocht airgeadais Údarás na Gaeltachta agus An Chomhairle Ealaín trí Ealaín na Gaeltachta, chun an togra seo a chur ar bun.